We scored 278 places to take your dog in San Diego, CA
and picked the Top 5 activities!
From dog parks and beaches to pet boutiques and dog yoga, here are some of the best ways to experience San Diego with your four-legged friend!
1. The Beach!
San Diego is best known for its beaches - there are 8 great ones in the city limits - and also for three great spots where your pup can play in the sand and surf!
The North Beach Dog Run in Coronado is a dog friendly beach that's off-leash 24/7 and is great for dogs who love strong surf.
The most popular spot is Dog Beach in Ocean Beach - it's off-leash all the time and is a great spot for any dog, although it can get crowded at times.
Fiesta Island is located in MIssion Bay meaning there aren't any big waves to worry about. It's a spot for picnics, swimming, paddleboarding and more - for you and your pup!
2. The Food!
We know your pup would much rather be out on the town with you than watching TV alone at home. Things may be restricted right now in 2021 due to COVID-19, but when restaurants are fully reopened there are a lot to choose from in San Diego! Here are just a few of our favorites:
DOWNTOWN AND GASLAMP QUARTER
Union Kitchen and Tap
Inspired by San Diego's appreciation for craft beer and craving for fresh, creative cuisine, Union Kitchen & Tap is uniquely suited to provide guests with the best of both worlds.
Knotty Barrel
Featuring fine, locally-sourced food and a selection of over 100 local, domestic and imported beers from around the world, including over twenty craft beers on tap. During football season, the Knotty Barrel opens earlier on Sunday at 9am for breakfast.
Pier Café
More than just a casual café, the Pier Café sits along the Harbor at SeaPort Village and offers a full menu—from burgers to seafood specials. And the best part is, they're pet-friendly.
Sally's Fish House & Bar
Located on the Harbor at SeaPort Village, this restaurant is part of the Manchester Grand Hyatt and offer fresh seafood in an upscale atmosphere. Pets are welcome on the patio.
HILLCREST AND UPTOWN
Baja Betty's
Located in the historic Hillcrest district, Baja Betty's is famous for their Sunday brunch with bottomless Mimosa's.
The Regal Beagle
A quaint bar located just off the 5 FWY at India St., The Regal Beagle offers a good selection of craft beer, grilled sausages and appetizers. Pooches are welcome on the patio.
The Prado at Balboa Park
Located in the heart of Balboa Park, The Prado is a San Diego favorite. Owned by San Diego's famous Cohn Group, the restaurant features upscale California Cuisine in a beautiful setting. Bring your dog for brunch on the patio - you won't be disappointed.
Parkhouse Eatery
Neighborhood hipster eatery with good food, relaxed atmosphere and open arms to furry friends.
LA JOLLA
The Public House
This historic house turned diner features indoor and outdoor seating and hundreds of beers, over 40 on draft. For the truly ambitious, join the 80 beers in 80 days club to be entered to win a brewery tour destination trip.
MISSION BAY AND BEACHES
Backyard Kitchen and Tap
Backyard Kitchen & Tap is a chic, yet cozily coastal American eatery and natural fit for the laidback vibe of Pacific Beach. Dogs are allowed in the outdoor areas, which are celebrated with three cabanas, live walls, fire pits and an indoor/outdoor bar. For a tasty brunch, lunch or dinner, Backyard satisfies every palate with scrumptious American favorites and spirits.
Bayside Landing
Bayside Landing features quality food anc local craft beers. All along the streetside is a large bay window and counter where dogs are welcomed.
The Local Pacific Beach
The Local brand was born over a decade ago with the opening of The Local in downtown San Diego. This recent addition by the beach features local musicians, craft cocktails and beer, and great food. Dogs are allowed downstairs on the patio.
Fig Tree Café
The café inhabits an old cottage with a dog-friendly patio, surrounded by a garden-like setting just off the beach-goers' beaten path. According to local lore, the flagship locale even includes an old putting green, left intact underneath the deck.
MISSION VALLEY AND OLD TOWN
Cosmopolitan
This historic setting in Old Town offer contemporary cuisine and welcomes pets on their beautiful patio.
Lazy Dog
All dogs are welcome here. It's in the name! Lazy dog has a cozy open air patio with a fire pit and a great happy hour. Brunch is served Saturdays and Sundays.
Fred's Mexican Café
Charming café in the heart of Old Town, Fred's offers traditional me Mexican food and drinks plus welcomes furry friends "no problema."
NORTH COUNTY COASTAL
Pipes Cafe
Hit the surf early, shred some gnar, get pitted, then head to Pipes for a post-shred session rejuvenation. Named after the nearby surf break, Pipes is the perfect follow up to an epic morning of surfing. Afterwards head across the street to Seaside Market for some Cardiff Crack.
Honey's Bistro and Bakery
A family owned restaurant, Honey's combines a unique menu, great atmosphere and friendly staff to create an excellent dining experience.
POINT LOMA, HARBOR ISLAND, AND SHELTER ISLAND
Pizza Port
About as San Diego as San Diego itself, Pizza Port has been around since 1987 and is widely considered some of the best pizza in San Diego. To top it off, they brew their own delicious craft beer. Stop in with your dog and enjoy a pie, a pint and the ocean breeze on the large outdoor patio.
Slater's 50/50
Football specials and over 100 craft and local beers on tap. Dogs are welcome on the patio. They also have a special menu just for dogs.
CORONADO
Leroy's Kitchen and Lounge
A veritable hangout for locals and tourists alike, Leroy's is a departure from conventional island eateries. They also have live music Wednesday and Thursday nights, and Sunday during brunch.
EAST COUNTY
Anthony's Fish Grotto La Mesa
A San Diego landmark, come on in and try delicious lobster, fresh seasonal catches, salads, pastas, Mama's famous clam chowders and crispy fish & chips.
3. The Parks!
Nobel Leash-Free Park
Where: 8820 Judicial Drive, La Jolla
Hours: Open 24 hours
*Closed Tuesdays and Thursdays, 8 a.m.-11 a.m.
Amenities: Off-leash, small and large dog separation pens
Doyle Dog Park
Where: 8100 Cargill Avenue, La Jolla
Hours: 6 a.m.-11 p.m.
Amenities: Off-leash, small and large dog separation pens
Kearny Mesa Dog Park
Where: 3170 Armstrong Street, Kearny Mesa
Hours: 6:30 a.m.-10 p.m.
Amenities: Off-leash, drinking fountains, water bowls
Grape Street Dog Park
Where: Grape and 28th Street, Balboa Park
Hours: Monday-Friday, 7:30 a.m.-9 p.m.
Saturday-Sunday 9 a.m.-9 p.m.
Amenities: Off-leash, water fountains
Maggie Houlihan Memorial Dog Park
Where: 425 Santa Fe Drive, Encinitas
Hours: 8 a.m.-Sunset
*Closed for maintenance Thursdays, 1 p.m.-3 p.m.
Amenities: Off-leash, small and large dog separation pens, drinking fountains
Rancho Bernardo Dog Park
Where: 18448 West Bernardo Drive, Rancho Bernardo
Hours: Dawn-Dusk
*Closed Thursday mornings, 10 a.m.-12 p.m.
Amenities: Off-leash, water bowls, large and small dog separation pens, ball fields
Nate's Point Dog Park
Where: 2500 Balboa Drive, Balboa Park
Hours: Open 24 hours
Amenities: Off-leash, fenced in, dog drinking fountains
Alga Norte Dog Park
Where: 6565 Alicante Road, Carlsbad
Hours: 8 a.m.-10 p.m.
Amenities: Off-leash, small, medium, and large dog separation pens, agility course
Canine Corners Dog Park
Where: 9550 Milden St., La Mesa
Hours: 7 a.m.-6 p.m.
Amenities: Off-leash, water bowls, small, medium, and large dog separation pens
Mayflower Dog Park
Where: 3420 Valley Center Road, Escondido
Hours: 6 a.m.-9p.m.
Amenities: Off-leash, small and large dog separation pens
4. Dog Yoga!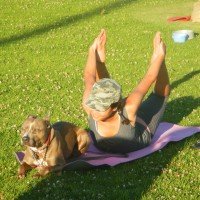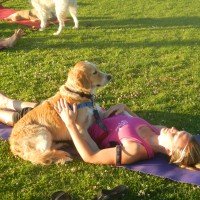 Any dog trainer will tell you that your dog will behave much better when he is mentally stimulated and exercised until he is tired. The dog park and/or a daily walk is fine, but to really tire your dog you need to mentally AND physically tire him.
If you want results for you AND your dog – check out Leash Your Fitness Dog Yoga!
5. Hiking!
What's the point of living in or visiting a place with the nation's best weather if you don't get out and enjoy it? If you think humans enjoy getting out of the city for a bit of fresh air and sunshine, then just imagine the explosions of joy your dog will experience when he or she gets out on the trail for a walk in open space.
San Diego's mild climate and diverse array of habitats offer a number of great hiking experience for dogs and their owners, ranging from wide, sandy beaches to pine-rimmed meadows.
Elfin Forest
Difficulty: Moderate to Moderately Difficult - 3-7 miles
Fee: Free
Hours: 8:00 am to 30-45 minutes before sunset
Trails in San Diego County almost universally require dogs to be on leash while they hike, but the trails in the higher reaches of Elfin Forest Recreational Reserve from Monday through Friday, dogs under effective voice control are allowed to walk with their owners without a leash. Dogs must remain on leash on the Way Up Trail, which ascends a steep hill from Escondido Creek to the trail network around the Olivenhain Reservoir.
San Dieguito Lagoon
Difficulty: Easy - 3-4 miles
Fee: Free
Hours: Dawn to Dusk
The initial stretch of the county's ambitious Coast-to-Crest Trail traverses the northern shores of the lagoon between the Del Mar's North Beach, commonly known as "Dog Beach" and a shopping center on Via De La Valle. From the trailhead on San Andres Drive, hikers and their dogs can walk toward the beach, first along a smooth dirt path and then along a boardwalk before following a trail along the lagoon's inlet to North Beach. North Beach allows dogs to play off-leash between Labor Day and June 15th.
Batiquitos Lagoon
Difficulty: Easy - 3 miles
Fee: Free
Hours: Dawn to Dusk
While this popular dog-walking spot requires dogs to remain on leash, this prohibition has not prevented the scenic trail along the lagoon's north shore from being one of the most popular dog-walking trails in the county. Bring your pup to join the daily parade of canines.
Beach Trail, Tijuana River Trail
Difficulty: Easy - 1 mile
Fee: Free
Hours: Dawn to Dusk
Outside of dog-friendly Del Mar, this scenic stretch of coast south of Seacoast Drive in Imperial Beach is one of the few stretches of beach that allows hikers and their pups. Walk along crashing waves to the mouth of the Tijuana River.
Blue Sky Ecological Preserve
Difficulty: Moderate to Moderately Strenuous - 3-6 miles
Fee: Free
Hours: Dawn to Dusk
This trail through a dense gallery forest of coast live oaks and, depending on your dog's fitness level, climbs either to Ramona Lake or up and around Lake Poway. Be aware that temperatures here routinely soar into the mid-80's during summer.
Sunset Trail, Laguna Mountains
Difficulty: Easy - 3 miles
Fee: Free
Hours: Dawn to Dusk
For a different kind of canine hiking experience, take your dog to this gentle loop that traverses broad meadows to a tranquil pond known as Water in the Woods. The cool shade of the forest and the variety of plant life provides a banquet of olfactory experiences for your pup's sensitive sniffer.
Penasquitos Canyon
Difficulty: Easy to Moderate - 3-7 miles
Fee: West Trailhead - Free. East Trailhead - $3 Day Use
Hours: West Trailhead - Dawn to Dusk. East Trailhead - 8:00 AM to Sunset
Penasquito Canyon's perennially flowing creek, gentle terrain, and relatively cool coastal temperatures are a perfect habitat for dogs. If you have a water-loving dog, you may have a tough time keeping him or her out of the water at the various crossings, but for your dog, that is all part of the fun.